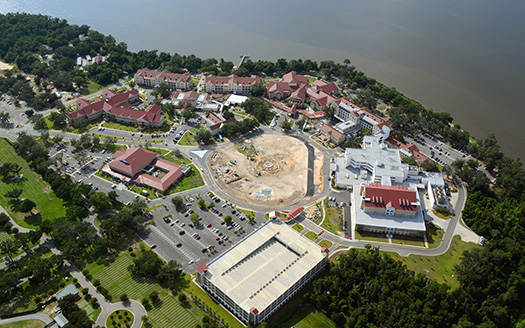 Latest News
> 10.30.2013
Freedom Health Center project completed scheduled for VA opening in the near future.
> 10.25.2013
De Mobilized form VAMC Tuskegee HVAC upgrade project awaiting final VA testing.
> 10.20.2013
Phase 4 of the VAMC Biloxi is nearing completion and awaiting temporary ER entrance to start Phase 5 Main ER entrance canopy and road work.
> 10.7.2013
New Committal Shelter at the VA Cemetery in Biloxi, MS was completed.
> 10.3.2013
Awarded B9 Lab Renovation - Columbia, SC
> 9.30.2013
Awarded Construction of Modular Village - Bay Pines, FL
> 9.24.2013
Awarded Demolish Buildings 1101 and 1306 - Montgomery, AL
> 9.24.2013
Awarded Correct Electrical Safety Deficiencies - Birmingham, AL
> 9.14.2013
Awarded Repair Smoke and Fire Wall Penetrations - Birmingham, AL
> 9.14.2013
Awarded Replace Roofs Phase III - Birmingham, AL
Key Services
Commercial & Institutional Building Construction
Water & Sewer Line Construction
Power & Communication Construction
Other Concrete Manufacturing

Highway, Street, and Bridge Construction
Other Heavy & Civil Engineering Construction
Site Preparation Contractors
Our Safety Pledge
Coburn Contractors, LLC believes the prevention of occupational injuries and illnesses, plus the right of the individual employee to derive personal satisfaction from the job are of the highest importance and will be given top priority at all times. Read more.